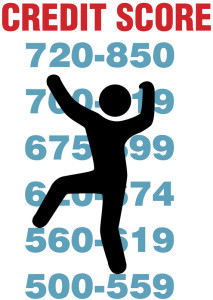 Most people assume once they file bankruptcy, their credit score will be affected for the entire time that your bankruptcy is on your credit report—7 years. I am writing this blog to dispel that myth! You can obtain a great credit (score of 720) within 12-24 months of filing bankruptcy! Yes, you read it correctly—within 2 years, you can have better interest rates and be proud to talk about your credit score in public.
Naturally, your 720 credit score will not come over night. It requires some work, but not that much. The 7 Steps to a 720 Credit Score is a credit education program with 15 minute modules and 15 minute homework assignments. So, for a total of 30 minutes per week (for 14 weeks), you will have the tools and the resources to boost your credit score to 720 or well over. This robust program includes topics like "Why Most Credit Scores are Wrong", and "How to Rebuild After a Bankruptcy or Foreclosure", just to name a few.
In fact, I tested the 7 Steps to a 720 Credit Score course myself and I'm not only impressed by the results, but I want to share with anyone who will listen!
After reviewing the program, I now have a great new partnership with 720CreditScore.com to help work with my clients after their bankruptcy, OR anyone who simply wants to boost their credit score. I now offer this program free to anyone who files bankruptcy through my office!
No more thinking your credit score is doomed and UN-repairable. With the right credit education, you (even with your bankruptcies, foreclosures, repossessions, and collections) can transform your credit scores in just 12 to 24 months.
To learn how to enroll in this FREE program–7 Steps to 720 Credit Score (valued at $1000), contact Cynthia L Carroll at (302) 733-0411 or Cynthia@CynthiaCarrolllaw.com.
P.S. To give you an idea of why I'm now giving this credit rebuilding process to my clients, listen to this three-minute recording of how this works. It's amazing!